Below is a listing of live, online training on various topics, including TouchChat & Saltillo's dedicated AAC devices. Please email info@prc-saltillo.com with any questions about trainings.
A NEW WAY TO LEARN!
Check out AAC Learning Journey and get started today!
AAC Custom Coaching!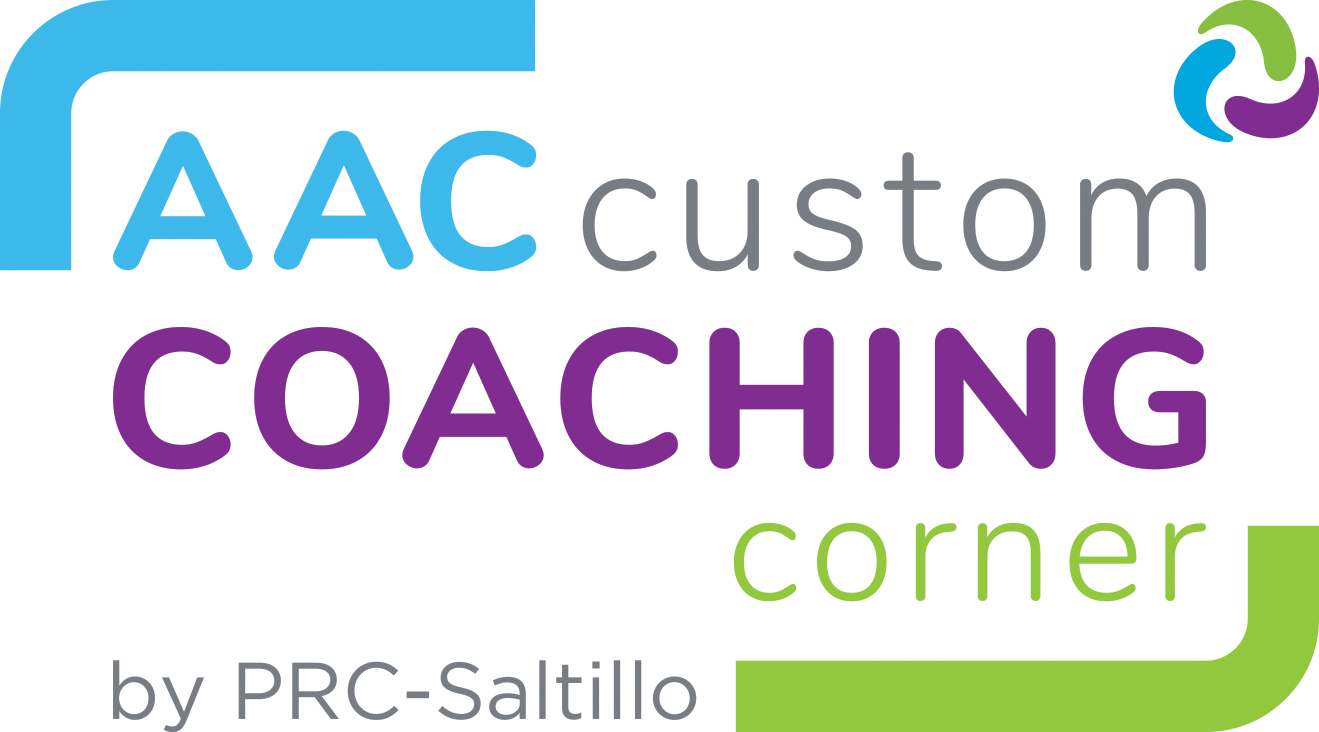 Looking for an informal, interactive, fun way to improve your communication partner skills? Learn along with other parents of children who use AAC! Learn more about AAC Group Coaching.
Please note: All times are Eastern.
Webinar Listings & Webinar Information
Note: We reserve the right to cancel a webinar/training if there are less than 4 participants registered.
Registration Information & System Requirements
For the webinar, please have
the corresponding Device or a computer running the Windows Editor software (suggested, but not required)
an Internet connection- cable modem, DSL or better
either a phone line or audio available through your computer for the audio portion
Please note only the person whose name appears on this registration form will be able to request a certificate of completion for attending the class and is able to submit for ASHA CEU credit. If you are registering more than one computer station, a separate registration with a different name must be completed for each computer station.
Confirmation and participation details will be e-mailed to you shortly after your registration is completed. We request that you join the class 10 minutes prior to the scheduled start time to ensure that you are ready when the instructor begins the presentation.
Computer and Web browser requirements:
For PC-Based Organizers and Attendees
Required: Windows® 7, Vista, XP, 2003 Server or 2000 (Linux is not supported)
Required: Internet Explorer® 7.0 or newer, or Mozilla® Firefox® 3.0 or newer, or Google™ Chrome™ 5.0 or newer (JavaScript™ and Java™ enabled).
Recommended: Minimum of Pentium® class 1GHz CPU with 512 MB of RAM (2 GB of RAM for Windows Vista)
For Mac-Based Organizers and Attendees
Required: Mac OS® X 10.4.11 (Tiger®), OS X 10.5 (Leopard®), OS X 10.6 (Snow Leopard®)
Required: Safari® 3.0 or newer, or Firefox 3.0 or newer; Chrome™ 5.0 or newer (JavaScript and Java enabled)
Required: PowerPC G4/G5 or Intel processor, 512 MB of RAM or better recommended

Product Trainings
Customizing TouchChat: Part 1

Type: Live Online ASHA

Price: Free

CEUs: 0.10

This one-hour training will step you through the TouchChat settings menu, show you how to set up abbreviations, change pronunciations, find the version, share with Social Chat and use the new Word Finder feature.  You will also learn how to choose and copy a vocab so that it can be modified, import pictures from your computer, edit buttons, access the help menu and make in-app purchases for additional vocabularies.




**It is suggested that you have an iPad/iPod/iPhone with TouchChat loaded on it in front of you during the training (but not required) so that you are able to follow along and get hands-on practice.




This presentation will focus exclusively on TouchChat and will not include information regarding other similar or related applications.




Learner Outcomes:

       Edit the settings in order to meet their needs.
       Locate the version of TouchChat they are running.
       Perform simple editing tasks such as copying a file and editing buttons to customize a vocabulary set.
       Explore the use of Word Finder to find a word in the vocab.
       Hide multiple buttons at once through hide mode.




Agenda:

20 minutes - Overview of settings & finding the version

15 minutes - Choosing and copying a vocab, importing pictures & editing buttons

10 minutes - Editing abbreviations/pronunciations, Hide mode, Word Finder

15 minutes - Exploring SocialChat, Making in-app purchases, Help Menu, closing TouchChat, website tour




Click here for instructor bio and disclosures










Dates:

No Dates Scheduled

Customizing TouchChat: Part 2

Type: Live Online ASHA

Price: Free

CEUs: 0.10

This one-hour training will take you through creating, duplicating and importing pages and editing page layouts.  You will learn how to create gestures and add different button functions such as navigate and visit. Transferring vocabulary files using AirDrop, iTunes, and iShare will also be examined.




**It is suggested that you have an iPad/iPod/iPhone with TouchChat loaded on it in front of you during the training (but not required) so that you are able to follow along and get hands-on practice.




This presentation will focus exclusively on TouchChat App and will not include information regarding other similar or related applications.




Learner Outcomes:

       Create and import pages and add navigational buttons to link it to/from other pages.
       Add animations and gestures to pages.
       Able to upload/download files from the device to iShare.
       Import/export files from the device to iTunes.
       Transfer a vocabulary file using AirDrop.




Agenda:

25 minutes - Creating & editing pages, duplicating & importing pages, creating page animations and adding gestures.

25 minutes - Copying photos into the device, iShare, Importing/exporting files to/from iShare & TouchChat, Importing/exporting files to/from iTunes & TouchChat.

10 minutes - Transferring a vocabulary file using AirDrop, website tour.




Click here for instructor bio and disclosures










Dates:

No Dates Scheduled