You might qualify to get this app on a speech-generating device paid for by insurance!
U.S. residents that lack full verbal communication may qualify to receive a speech-generating iOS device, pre-installed with the TouchChat, and have it partially or fully funded by private insurance, Medicaid or Medicare, or a combination of these. Qualification starts with an AAC evaluation by a licensed Speech Language Pathologist.
All PRC-Saltillo funded devices come with unmatched clinician/family support and training from our experienced national consultant network of speech pathologists, special educators and AAC specialists.
Contact your local PRC-Saltillo consultant for more information.
---
Via® Pro: Designed for Communication
The Via Pro iOS speech-generating device offers the familiarity iOS lovers prefer. It's powerful, easy-to-use and intuitive, right out of the box.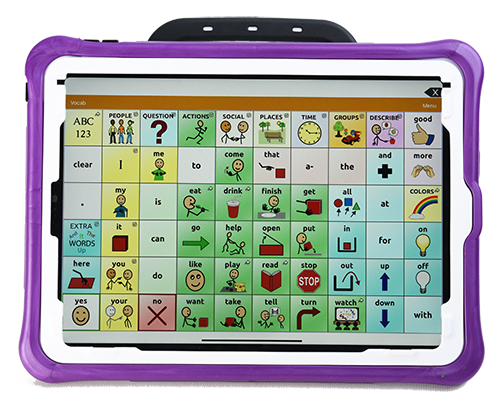 TouchChat on a Via Pro
The Via Pro is:
Powerful. Built on the processing power of iOS, it's designed for communication – and beyond.
Durable. Either wrap (Active or Classic) and the sturdy handle and stand, ensure lasting durability. The splash-resistant design meets or exceeds all federal standards for durable medical equipment.
Accessible. The Via Pro offers an 11" screen with for direct touch or wired and wireless switch compatibility.
Dependable. The Via Pro comes with PRC-Saltillo's two-year warranty.
---
TouchChat Express
Powered by the iOS operating system, TouchChat Express is a full-featured communication solution for individuals who have difficulty using their natural voice. It combines the familiarity of the TouchChat app with powerful hardware, amplifier and protective ChatWrap case. This device provides a seamless transition for those who know and love iOS technology.
TouchChat on a TouchChat Express
FEATURES
Includes both English and Spanish vocabularies
Comes with high quality Acapela text-to-speech voices, available in a variety of age, gender, tone and dialect with the ability to change rate an pitch, allowing communicator to choose a voice in that fits his/her personality; English and Spanish synthesized voices are available
Page sets can be modified to create new custom page sets
Word prediction
Built-in camera allows images to be added to vocabulary buttons
Single or dual switch scanning provides for alternate access methods
One year subscription to iShare included
Adjustable button activation timing
Shoulder Strap & Carrying Case included
Variety of import and export options available for transferring/sharing files
Additional page sets, including Gateway and Pixon are available as in-app purchases
Comes with wraps in black and blue